Our Story
We are a boutique learning and development company where everyone is a very experienced L&D professional.
Every trainer and facilitator at Cerulean has held a number of senior line management/operational roles in a range of well-respected organisations across several different business sectors.  This extensive experience of the complex dynamics between the needs of organisations and the individuals who work for them has shaped the way we work with our clients. Many of us are dual-qualified as psychologists, as well as Learning & Development Specialists, so we can bring a deeper dimension to the work we do with you, no matter how simple or complex your requirements. We help people think about why they do the things they do, both helpful and unhelpful, so that they can change the patterns that are not useful and become more effective.
It is our belief that by providing people with the space and tools to think and by asking them the right questions, we can help them:
make sense of where they currently are
articulate what they truly want to achieve
plan to meet their objectives
That is what we are about, that is why we started Cerulean and that is what we are here to help you with.
Our Mission
Our mission is at the heart of everything we do, from training materials to promotional literature, but what do we really mean by it?
It may sound like a cliché, but people are our business and we can help them make the difference in their organizations, encouraging them to be creative, intuitive, productive, financially aware and able to increase customer retention, so that they can continue to add value to their business.
Through effective learning and development, organisations can nurture and retain their staff and this plays a key role in the future growth and success of their business.  Learning & development is one of the fundamental elements of successful employee engagement.
Our Values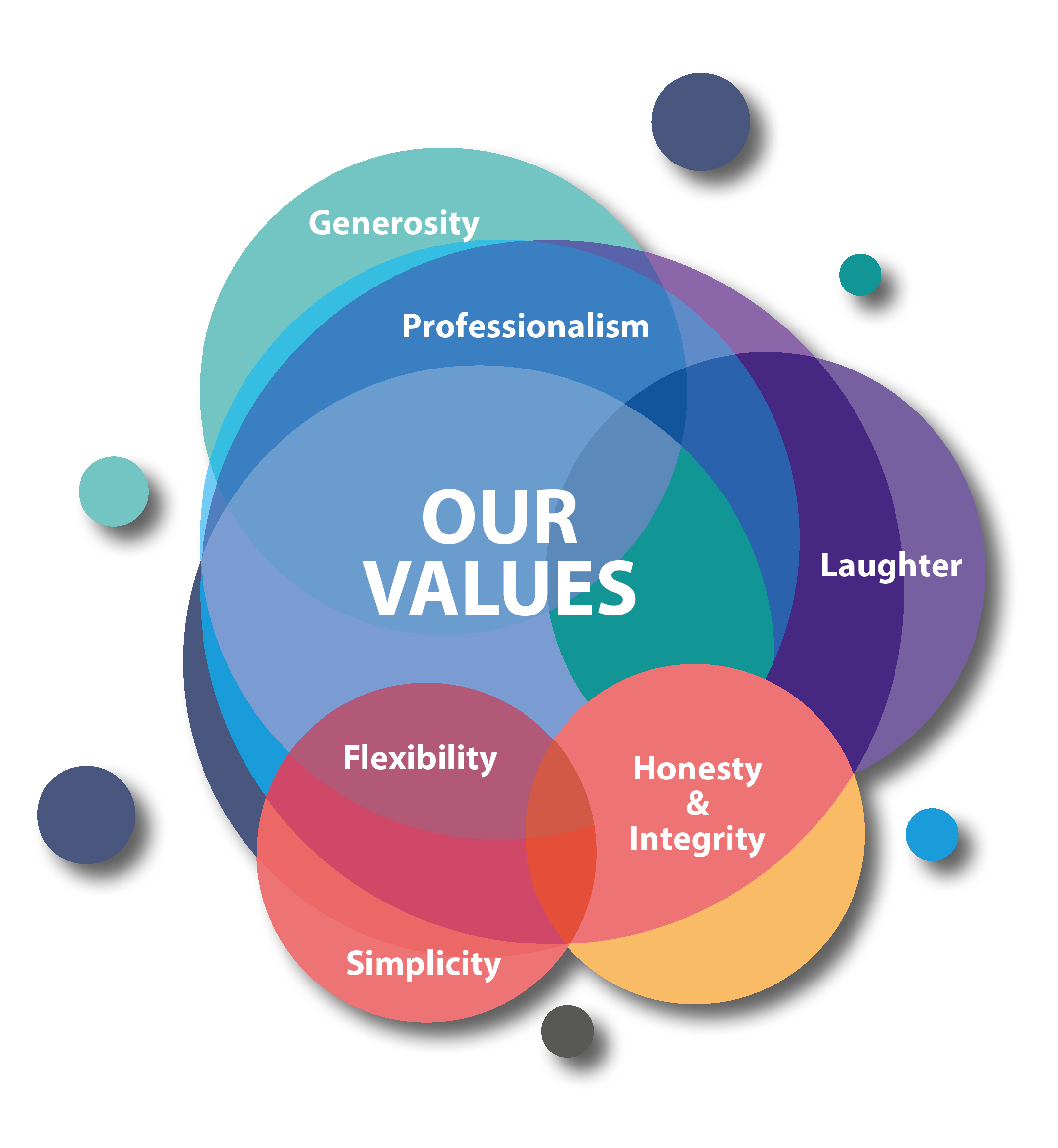 At Cerulean, we talk about our shared values all the time and we have distilled them into just six:
Generosity – We like being generous with our clients and with each other. If, whilst we are working with you, we feel that you would benefit from something that we know or have, we'll share it with you willingly and you won't have a surprise bill at the end! We cherish learning – and we can't really put a price tag on those 'lightbulb' moments we know and love to observe in our learners. To us, they really are priceless.
Simplicity – We think we can share what we know simply. No frills, no drama, no death by PowerPoint. However, we are never simplistic and we hope we never patronise anyone.
Honesty – What more can we say? We tell the truth, even when it hurts (us or you!) but always kindly and always with a view to learning, growing and progressing. We charge fair prices and we are always up for a discussion on what 'fair' is!
Integrity – We know it's old-fashioned, but we still believe that being good and true will win out in the end, and it just feels better too. So, we aim for fairness, consistency, client loyalty, reliability and truthfulness – we're not perfect, no-one is, but we definitely try our best.
Professionalism – We have all held senior management positions in large organisations and we believe this gives us a unique insight into what people want when buying training – competence, high standards, quick responses and courteous dialogue. We strive to achieve all this with our clients, and we have built our reputation on our high levels of professionalism.
Flexibility – We pride ourselves on not being inflexible or high maintenance. We'll come to any venue you chose and deliver the learning you ask for. If, when we get there, you need something else, we'll do our best to deliver that as well. We offer everything from bite-size learning, one or two-day workshops and whole programmes lasting up to a year. Everything is tailored to your needs, just as you'd expect from a learning and development boutique consultancy. 
Laughter – The one thing people say about us over and over again is how much laughter they hear when people are learning with us. We're not frivolous, but we do believe that learning is easy and is best retained when people are enjoying themselves. And because we expertly design everything especially for you, you can be sure that your training is a perfect fit for your business, as well as great fun.